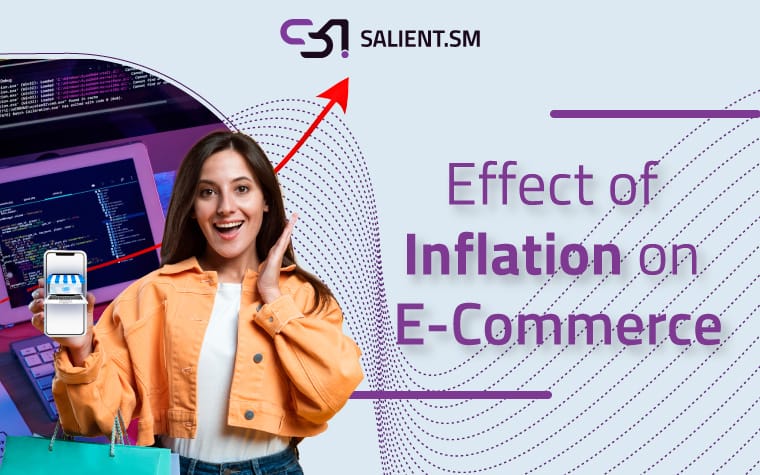 Effect of Inflation on E-Commerce: How SalientSM Can Help
An increase in the average price level of all goods and services offered within an economy over a specified amount of time is what economists refer to as inflation. In the past few years, inflation has been climbing to new heights across the globe, and as a result, it has emerged as an increasingly important issue for those who own businesses that deal in e-commerce. The COVID-19 pandemic has only served to exacerbate the problem, making it more difficult for businesses engaged in e-commerce to continue to be successful while remaining competitive.
But there is still a chance. E-commerce companies have a better chance of overcoming the challenges of inflation and achieving success over the long term if they collaborate with the Salient Smart Marketing Agency. We are one of the most successful businesses in the field of e-marketing, and we offer comprehensive, all-integrated e-marketing solutions that are crafted to fulfill the individual requirements of each of our customers. Our team of specialists is committed to assisting our customers by working together with them, bringing all of our enthusiasm and expertise to the table, in order to ensure that they achieve success and stand out in the industry.
The Role That Salient Smart Marketing Agency Can Play in Your Success
1. Monitor Prices and Costs
Our staff has been educated to perform regular price and cost analysis in order to better comprehend how the economy is affecting the businesses that we serve. This involves keeping an eye on the costs of products and services, as well as shipping, packaging, and labor, and adjusting pricing strategies as necessary to ensure maximum profitability.
2. Consider Different Pricing Strategies
We collaborate closely with our customers to investigate a range of pricing approaches that may assist them in mitigating the effects of inflation. This may include offering discounts or promotions, bundled packages, and other items, as well as others, in order to encourage consumer spending and drive sales.
3. Make Your Operations More Efficient
We assist our customers in becoming more efficient by streamlining their processes, automating their work, and reducing the amount of waste they produce. By acting in this manner, we are able to assist in maintaining profitability despite increases in both prices and costs, thereby providing our customers with a competitive advantage in an environment characterized by inflation.
4. Increase the Variety of Your Product Lines
To help you reach a larger audience and boost sales, the members of our team will collaborate with you to discover new product lines and expand the scope of your current offerings. This can help to reduce the impact that inflation has on your business by reducing your reliance on a single product or market and increasing the diversity of the sources of revenue you generate.
5. Put money into marketing.
In a climate characterized by rising prices, making investments in marketing is absolutely necessary to achieve success. At Salient Smart Marketing Agency, we provide our customers with all-encompassing marketing solutions that can be adapted to their unique requirements in order to best serve their business. We will assist you in expanding your customer base by assisting you with search engine optimization (SEO), driving traffic to your website, and increasing sales.
Conclusion:
E-commerce businesses face a significant obstacle in the form of inflation, but it is not an obstacle that cannot be overcome. E-commerce companies have a better chance of overcoming the challenges of inflation and achieving success over the long term if they collaborate with the Salient Smart Marketing Agency. Our team of industry professionals is committed to providing our customers with the most efficient marketing strategies, with the end goal of assisting those customers in achieving their goals and thriving in a market that is constantly shifting.
Get in touch with Salient Smart Marketing Agency as soon as possible if you are prepared to take your e-commerce company to the next level. Our staff will collaborate with you to design a specialized solution that caters to your individual requirements and assists you in achieving your objectives. Allow us to assist you in thriving in an inflationary environment and achieving sustainable growth and success over the long term.